Welcome to my hyperactive, creative life reflecting my passion for art, writing, sewing, the Great Lakes, Beaver Island, Bay City (Michigan), Florida, my experiences with breast cancer, and life. Above find links to my art, books, resume, published work and contact info. Click on the following links to quickly check out my note cards, posters, pillows and cushions, wool hats, and books currently for sale on my Etsy store. To the right find the archives to the past blog posts and to my Breast Cancer Blog (which is thankfully out of date as I go into my eighth survival year). (Photo by Marie Marfia.)
CURRENT NEWS  Announcing our Book Launching & Signing Event in Bay City, Friday, September 11, 2015, 2:00 to 7:00 p.m. at SuperChic Designs, 105 Third St.
Meet Amazing Gracie The Wonder Dog and and me, her adopter, Michigan nature and children's book author Mary Blocksma. Also see the original art I did to illustrate the book (example on the cover) and lots of very cute DOG COATS I designed and whipped up myself—go to my etsy store to see examples.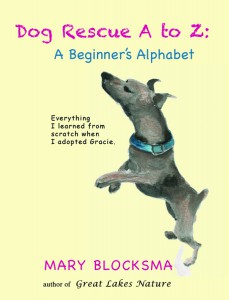 I never knew how much I didn't know about dogs until I adopted Gracie. Never having heard of a Min Pin  was only the beginning of my doggie ignorance, and Gracie was also surprisingly untrained. Follow our learning curve in this adventure memoir.
Dog  Rescue A to Z offers an indispensible resource for dog adopters and dog lovers all.
116 pages, b/w photographs and drawings by Mary Blocksma, 5.25 x 7.25 inches. $15.    Purchase our new book on my etsy store: Beaverislandarts.etsy.com.